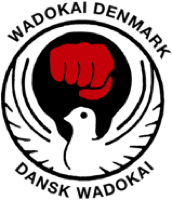 In Silkeborg Karate Club we have a particular focus on training Kihon and Kata, which are basic basic techniques that are important to understand. When we train Kihon and Kata, we also train breathing, relaxation and control of muscles. Repetitions are a natural part of Kihon and Kata.
We bend for our flag, bend before we enter the do-jo'en and before we leave the do-jo'en. We start the training with a bukkeritual, where we make mentally ready for the training. The first minute we use to clear the mind for thoughts. Many take the Wado-Ryu spirit so it becomes a natural part of their lives. Kata training and kihon training can strengthen you mentally, so you feel improvements in concentration, greater well-being and greater self-esteem.
We are about 60 members, divided between children, junior and senior. Common to everyone in Silkeborg Karate Club is Karate, which we use as martial arts, sports or self-defense.
We have two children's teams and an adult team. The children's teams are for children from 8 years to 13 years.
We strive for the younger children to play karate into the training. Therefore, we spend some time on a doctor in the heating. When we practice the syllabus exercises, many repetitions take place. However, we strive for it to happen as much peace as it can now.
As the children get higher up in the knee, we work deeper with karate, where strokes and kicks will play a more central role. We start with curriculum training where our goal is to finish the season with a graduation / test.
The children will be introduced to Kihon, Kata and Kumite and begin to become more aware of companionships where they develops their ability to cooperate. The training is varied in the coach team and is designed to enhance learning ability, ability to focus, receive messages, coordination skills, agility, and provide a good body strength.
It is important for us that karate can give the children self-esteem and give them courage to address physical and mental challenges.
In addition, we have Junior (14-17 years) and senior (18-? Years).
Read about Wado-Ryu here